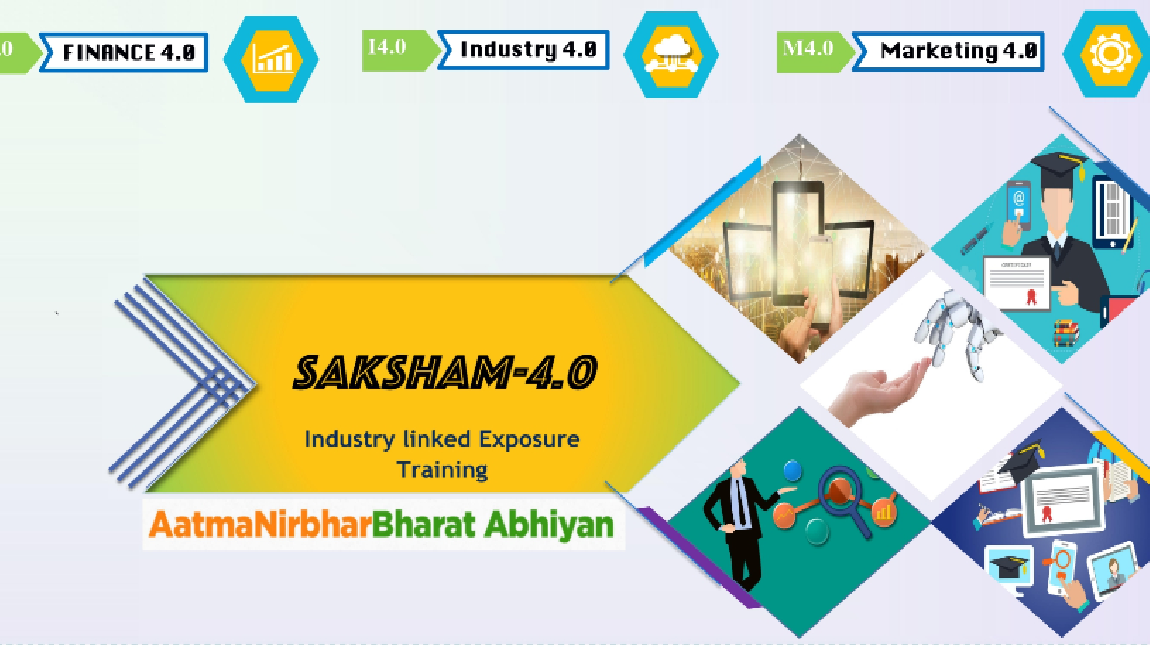 SAKSHAM 4.0-Industry Linked Internship Program
The Education sector is at a cusp of a new Revolution.
The changed scenario desires rethinking on how to educate, and the domains in which the student should be taught.
Skill set of Future: The role of the educators will need to shift towards facilitating young people's development as contributing members of society. In this ever-changing global environment, young people require resilience, adaptability, Entrepreneurial skills – essential skill set required to reorient their approach as per new requirements. The important life skills to be given to students include:

In this context, CoE:IT for I4.0 conceptualized and launched SAKSHAM 4.0-Industry Linked Internship Program. The inaugural Program was held from 23rd June, 2020 to 04th July, 2020. More than 70 students from various Universities/Colleges of India, participated in Two weeks Training delivered through virtual CISCO platform. The Training was provided on key Technical Topics viz.
Entrepreneurship & Innovation
Digital Commerce & Marketing Technology (MarTech)
AI & ML in Marketing
Financial Technology & Digital Lending (FinTech)
Industrial Processes & Industry 4.0 including Use Cases
As part of the SAKSHAM 4.0 Internship, one of the key objectives is to enable the students to apply the learning acquired through the training via Industry connect. Below is the Testimony of a Student who is currently undergoing Internship at an Industry in Greater Noida.
Mr. Javed Saifi, MBA (Pursuing),
Uttranchal University
"I am Javed Saifi pursuing MBA final year with the specialization in Marketing and International Business from Uttaranchal Institute of Management, Uttaranchal University. I am undergoing One Month Internship Program under Mr. Vishal Goel, owner of the Kwaliteit De Servici Pvt Ltd.(KDS). I would like to thank NPC for providing this opportunity during the pandemic."
The KDS specializes in ATM consumables and also in printing and converting of ATM Rolls, POS Rolls, Credit Card Rolls, E.C.G. & Medical Rolls besides manufacturing and sourcing ATM Rolls, ATM Ribbons, Depository Cartridges, Pass Book Printer Ribbons and POS Ribbons.
During this internship the various tasks being performed by myself, includes dealing with Clients regarding requirements of product and I am also making a marketing campaign of upcoming project of KDS India.
Contact:
Sh. Aman Gulati, Deputy Director (CoE:IT for I4.0): +91-7982348583 Email: aman.gulati@npcindia.gov.in,
Sh. Yadu Kr. Yadav, Asst. Director(CoE:IT for I4.0):+91- 9958748893; Email: yk.yadav@npcindia.gov.in